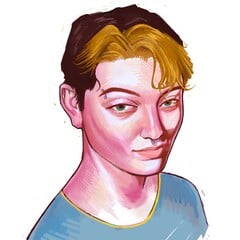 Skipper Stow
3D Artist / Generalist (Looking for Work!)
NYC, United States
About
Hello my name is Skipper! I graduated from the Savannah College of Art and Design in May 2019 with a BFA in Interactive Design and Game Development and am currently looking for full-time work! I am a 3D Artist and Generalist, with an interest in stylized art, critters of all sorts, and bright colors. I am passionate about telling stories through art. Some of my other interests include vintage computers, drinking way too much coffee, and my cat Paprika.
I am currently located in the New York City area and looking for opportunities in the Game Development, Visual Effects, Animation, and general art/tech industries. Feel free to reach out at skipper.stow@gmail.com
Skills
Digital Sculpting
Character Modeling
3D Modeling
Digital Painting
Texturing
Retopology
UV Mapping
Character Design
Illustration
Software proficiency

ZBrush

Maya

Blender

Substance 3D Painter

Substance 3D Designer

Unity
Unreal Engine

UVLayout

TopoGun

xNormal

Substance B2M

Photoshop

After Effects
Productions
Video Game

Cor Domus

Year

2019

Role

Art Director, Character Artist

Company

SCAD Studio 2 Winter 2019

Video Game

Berd

Year

2018

Role

Art Director, Character Artist

Company

SCAD Applied Game Design Winter 2018
Experience
- Tech help in charge of answering tickets.

- Responsible for the health of hundreds of computers across 2 academic buildings.

- Troubleshoot software and hardware problems for Windows and Mac operating systems.

- Software troubleshooting experience includes but is not limited to ZBrush, Autodesk Maya, Unreal Engine 4, Unity, Substance Painter and Designer, and the Creative Cloud Suite.